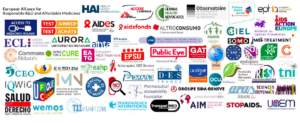 Brussels, 25 March 2020
GHA joined 60 organisations, including patients, consumers, healthcare professionals, trade unions and public interest organisations to express our position on the importance of the role of public support to research and development during the current global crisis caused by the novel coronavirus.
Since January, the European Commission has mobilised millions of Euros to promote research on COVID-19, the disease caused by the novel coronavirus. We believe that an effective response to the pandemic requires that all these necessary medical tools are free of charge at the point of delivery, particularly for vulnerable populations. 
In the statement, we demand the EU institutions and national governments to incorporate collective, pro-public safeguards, such as transparency regarding public contributions, accessibility and affordability clauses and non-exclusive licences for exploitation of end-result products, in current and future funding calls and investments. These measures will eventually ensure the vaccines and treatments for the coronavirus reach those who need them and save numerous lives.
It is high time for health needs to take priority over profit. The mistakes in responding to previous epidemics cannot be repeated. The COVID-19 pandemic is a wake-up call for us all. By adopting these measures national governments and the EU will be better prepared for future epidemics and pandemics. It is not a matter of if, but when.
The full statement can be found here.
For more information, contact Marine Ejuryan, EU Advocacy Manager, at mejuryan@ghadvocates.org