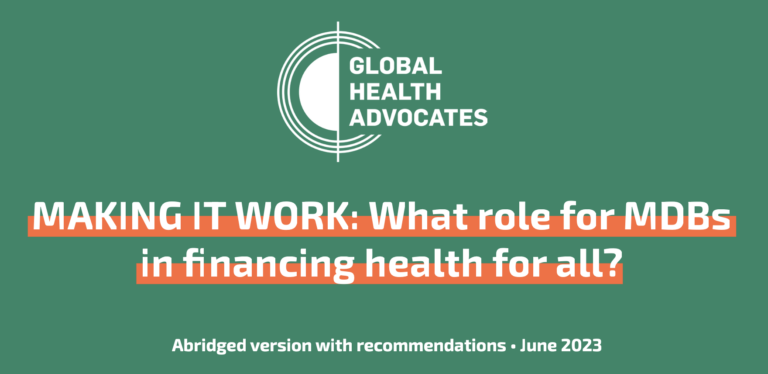 On the occasion of the New Financing Pact Summit taking place in Paris on June 22th and 23rd 2023, Global Health Advocates is releasing an abridged version with recommendations of its discussion paper on the role of MDBs in financing health for all, originally published in April.

As the world is recovering from the COVID-19 pandemic and moving into a global recession – a context also marked by deteriorating macroeconomic conditions, pressure on national budgets, and a displacement of donor funds due to the war in Ukraine; the aid funding environment for global health financing in 2023 and beyond is looking preoccupying. What's more, many countries are projected to spend less on health than their pre-pandemic levels through 2027.
The Covid-19 pandemic highlighted the need to significantly increase investments in health, to prevent, prepare, and respond to future pandemics. In recent years, we have seen the increasing role of Multilateral Development Banks (MDBs) in providing health financing, with the World Banks now being the largest external funder of health. However, there has been little focus on what the role of MDBs should be in health financing.
Discussions are ongoing about MDBs reform and the Global Financing Pact Summit that will happen this week in Paris will be a unique opportunity to advance on this topic. This paper aimed at assessing the ability of MDBs to effectively contribute to achieving global health justice. GHA is proposing concrete recommendations to ensure challenges, such as global power imbalances, and lack of focus on the needs of the people and communities most affected by current and future health threats, can be addressed.