A French version follows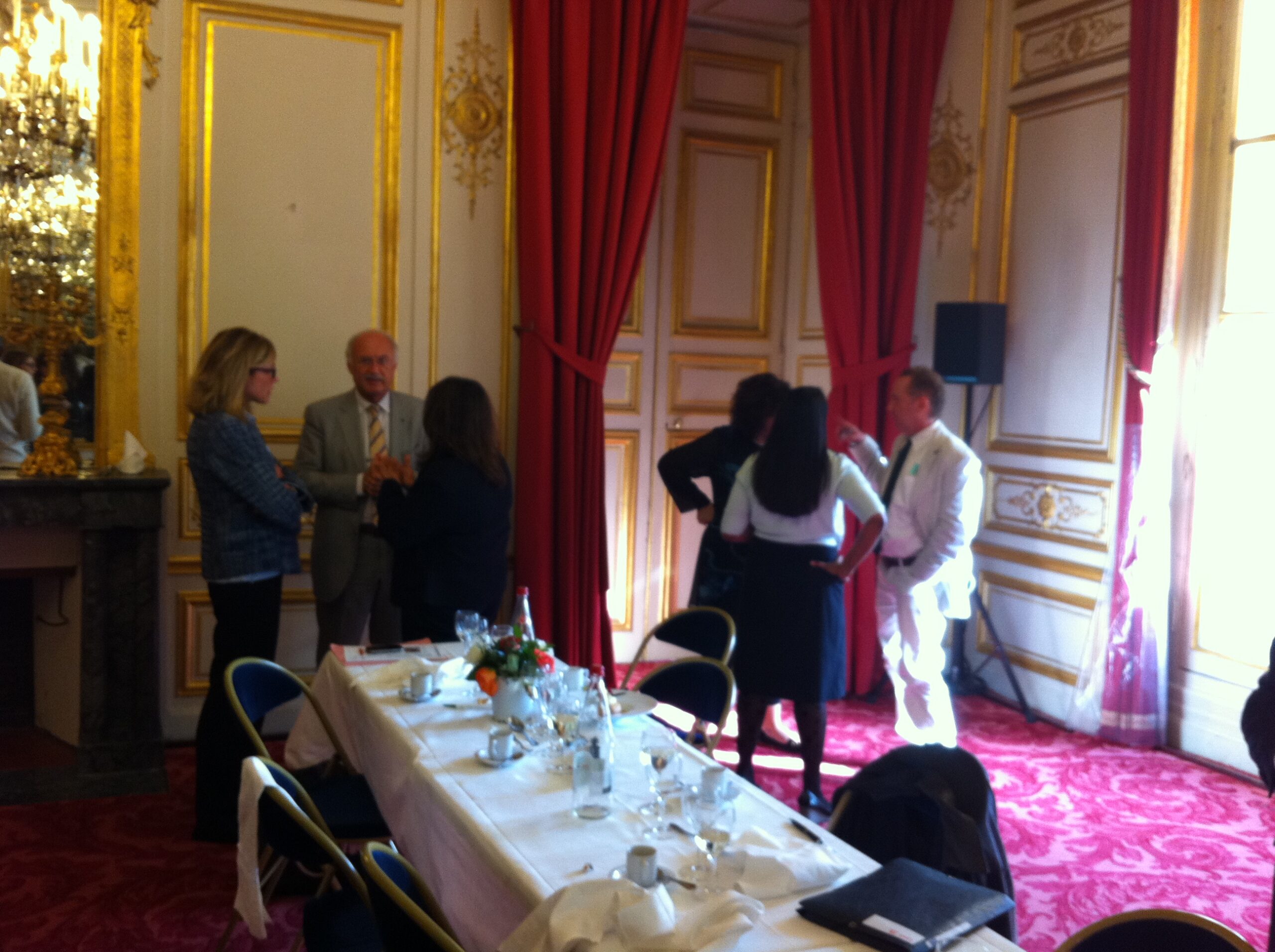 On October 29th, deputies and senators met at the Luxembourg Palace to discuss the greatest needs in research and development in the fight against tuberculosis. Coinciding with the Union World Conference on Lung Health, the largest international meeting of experts and scientists on TB, this meeting was an opportunity to reinforce the French commitment to fight against this infectious disease, which is the deadliest in the world with HIV/AIDS. Moreover, it was a chance to reflect on both the levels of progress and the shortcomings that we can together overcome with Research and Development.
Senators Jean-Claude Peyronnet and Fabienne Keller hosted this debate. Both participated in a parliamentary delegation to India where over 250,000 people die from tuberculosis each year. TB, like all infectious diseases, does no respect borders, and this concerns all of us. According to the World Health Organization, the rapid circulation of the virus over the past twenty years is a "global health emergency."  Despite progress, TB remains a major health threat, even more so now as drug-resistant strains of the virus are emerging. In a recent case study in Mumbai, for example, patients were diagnosed with a strain of the virus that is resistant to all current forms of treatment.
Research is consequently essential in the fight against this pandemic that, far from being a disease of the past, is a veritable time bomb waiting to explode. In her speech, Ms. Keller advocated for better-funded and more crosscutting research, citing the recommendations of her report on the reemergence of infectious diseases for the prospective senate delegation. This research, she said, should manifest itself more like the work of Louis Pasteur, a forefather on the principles of vaccination. Next, Mr. Peyronnet affirmed that parliamentarians have a key role to play in funding research, especially through budget votes supporting Official Development Assistance (ODA). He lamented this fact, however, since the first development law that will be voted on in the coming weeks is not related to the budget and is more about program orientation.
Senator Kalliopi Ango Ela underlined the fact that development research is a key component of French diplomacy comprising nearly 4% of Official Development Assistance, all the while reminding us that there are numerous shortcomings that undermine its effectiveness. For example, research subjects are not sufficiently defined in consultation and in line with the demands and the needs of developing countries. Enhanced cooperation allows a better understanding of endemic countries and enhances the effectiveness of products and health services.
Lucica Ditiu, the executive director of the Stop TB Partnership, presented the disjoint between the reality of the pandemic and the resources allocated to fight it: we have been using the same methods the fight tuberculosis for the past forty years even though the disease is constantly changing. According to a report by the Treatment Action Group, represented by Mark Harrington, the funding allocated to research has suffered from a worldwide reduction of $30 million dollars. While the need for new diagnostic tools, new vaccines, and new treatment methods is becoming more and more critical – one can estimate for example that three million people who suffer from tuberculosis are not diagnosed – investments are down for the first time in eight years. Thus, the $627.4 million dollars invested in 2012 only represent 31% of the global need.
Fogué Foguito, president of the Cameroonian association Positive Generation, highlighted the practical implications of these funding cuts and the difficulties faced by patients with tuberculosis. For example, existing treatments have many side effects that sometimes discourage patients from continuing, which in turn may cause drug resistance and even aggravate the disease. In addition, medication is often expensive and inaccessible to the most vulnerable populations who are at the greatest risk of contracting the virus. Only a strong political will can yield increased investment in research against tuberculosis and better access to care and to health services.
If financial resources are lacking, we have nonetheless at our own dispensation the skills and expertise required to produce new products. France can boast having a driving force in medical research. BCG, the only vaccine that can effectively prevent the transmission of the tuberculosis between children, was discovered at the Pasteur de Lille Institute. Unfortunately today, France has lost its influence on the international scientific scene, contributing only $6.2 million dollars each year on research against tuberculosis, which is less than both Great Britain ($31.1 million) and India ($8.7 million).
Nathalie Mielcarek, a researcher at the French Institute of Health and Medical Research (INSERM), head of international relations at the Pasteur de Lille Institute and an Aeras representative, assured us 75% of the research for new vaccines is European, while 75% of the funding comes from the United States. France can change this state of affairs by influencing the European Union budget and through its participation in the European and Developing Countries Clinical Trials Partnership (EDCTP).
Phillipe Meunier, ambassador in charge of the fight against HIV/AIDS and communicable diseases as the Ministry of Foreign Affairs, responded to this point by reaffirming France's commitment to being an international leader in the fight against major pandemics. Negotiations on the Post-2015 Development Agenda are a great opportunity to highlight the fight against tuberculosis. TB affects all countries worldwide and is deeply correlated with poverty and exclusion. But without waiting for 2015, we must act now, especially though the Global Fund, which has since 2002 has made remarkable progress by detecting and curing eleven million new cases.
Francesca Belli, international advocacy manager at AIDES, questioned Mr. Meunier on the fact that even if France maintains its annual contribution to the Global Fund, it will not be enough to achieve international goals. In addition, the use of innovative financing is a game of communicating vessels and doesn't represent the fiscal effort of France.
In conclusion, Bruno Rivalan, representing Global Health Advocates, added that it is essential to have a holistic and horizontal approach to the pandemic. Different actors need to concentrate and work together in order to produce new products, diagnostic tools, vaccines, and accessible drugs that effectively meet the needs of affected populations – that is to say, all of us.
A special thanks to Emily Russel for the translation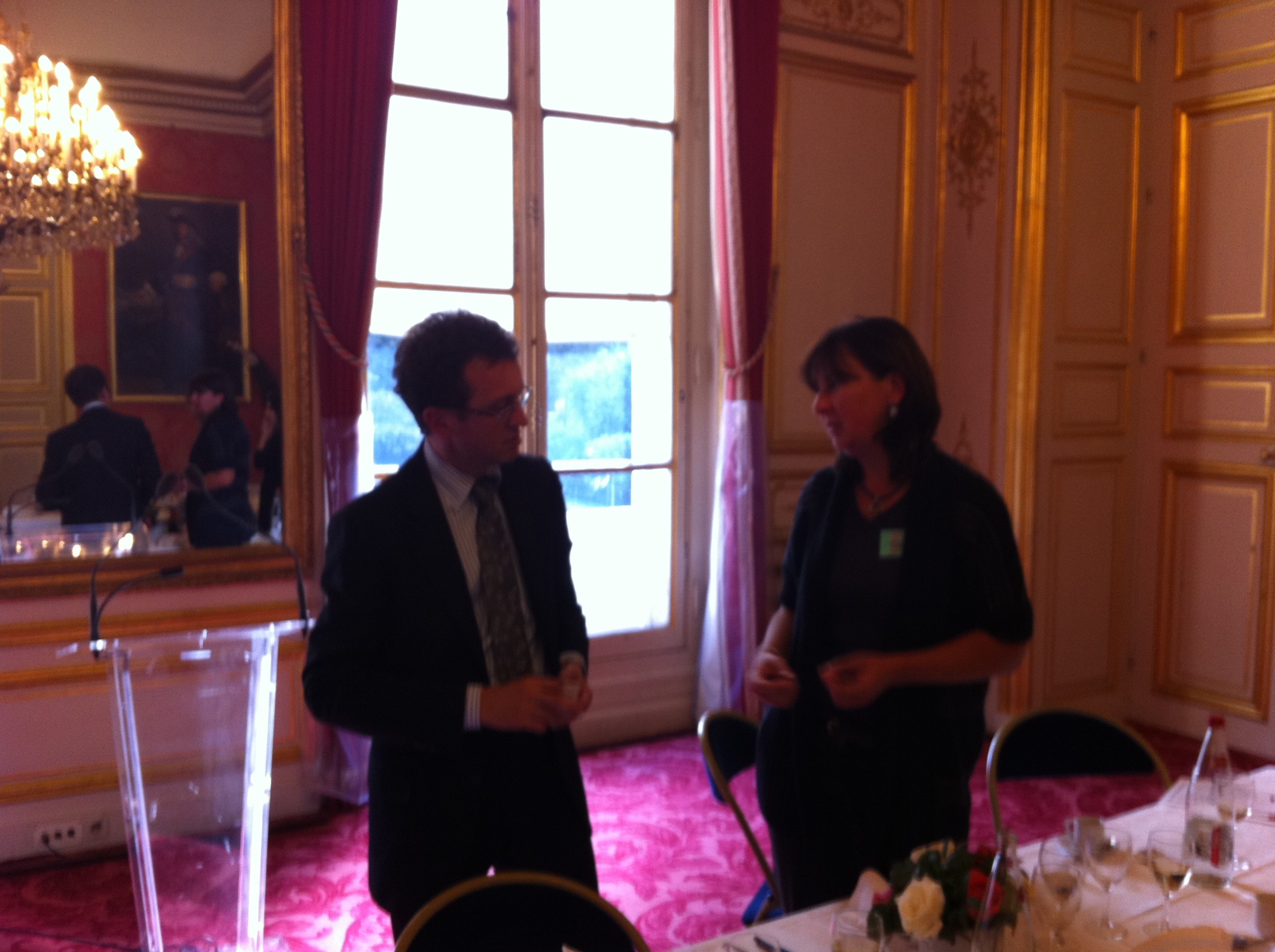 Lutte contre la tuberculose: innover avant qu'il ne soit trop tard!
Le 29 octobre, députés et sénateurs se réunissaient au Palais du Luxembourg pour débattre des besoins en matière de recherche et développement dans la lutte contre la tuberculose. En amont de la Conférence internationale de l'Union sur la santé respiratoire à Paris, la plus grande réunion mondiale d'experts et de scientifiques sur la tuberculose, c'était l'occasion de témoigner de l'engagement français contre cette maladie infectieuse, la plus meurtrière au monde avec le VIH/Sida, et de réfléchir aux leviers de progrès ainsi qu'aux lacunes que nous pouvons ensemble pallier en matière de Recherche et Développement.
Les sénateurs Jean-Claude Peyronnet et Fabienne Keller parrainaient ce débat. Tous deux ont participé à un voyage d'études en Inde où 250 000 personnes meurent des suites de la tuberculose chaque année. La tuberculose, comme toute maladie infectieuse, ne répond à aucune frontière. Nous sommes tous concernés. La circulation rapide de ce virus en fait depuis vingt ans une « urgence mondiale de santé publique » selon l'Organisation mondiale de la santé. Malgré les progrès réalisés, la tuberculose reste donc une menace sanitaire de grande envergure et ce d'autant plus que la forme résistante aux traitements est en pleine émergence, comme à Bombay par exemple où lors du voyage d'étude des patients ont été diagnostiqués résistants à toutes les formes de traitement existantes.
La recherche est donc indispensable pour lutter contre cette pandémie qui, bien loin d'être une maladie du passé, est une véritable bombe à retardement. Mme Keller lors de son intervention a promu une recherche mieux financée et plus transversale, reprenant les recommandations de son rapport sur la réémergence des maladies infectieuses dans le cadre des travaux de la délégation sénatoriale à la prospective. Il faudrait « une prise en compte plus pasteurienne ». M. Peyronnet a affirmé que les parlementaires ont un rôle capital à jouer dans le financement de la recherche par le biais notamment des votes du budget Aide publique au développement (APD). Il a regretté à ce titre que la première loi sur le développement qui va être votée dans les semaines à venir ne soit pas liée à des indications budgétaires, qu'elle soit plus une loi d'orientation que de programmation.
Madame la sénatrice Kalliopi Ango Ela a souligné que la recherche en faveur du développement est un élément clé de la diplomatie française avec près de 4% de l'APD sur cette thématique, tout en rappelant qu'elle souffre de plusieurs manquements qui mettent à mal son efficacité. Par exemple, les objets de recherche ne sont pas assez définis en concertation et en lien avec les demandes et les besoins des pays du Sud. Une collaboration renforcée permet une meilleure connaissance des terrains épidémiques et renforce donc l'efficacité des produits et des services de santé.
Lucica Ditiu, la directrice exécutive du partenariat Halte à la tuberculose, a présenté la déconnexion entre la réalité de la pandémie et les moyens alloués pour la combattre : depuis 40 ans nous utilisons les mêmes outils alors que la maladie est en constante transformation. En effet, selon le rapport du Treatment Action Group, représenté par Mark Harrington, les financements alloués à la recherche souffrent d'une diminution de 30 millions de dollars à l'échelle mondiale. Alors que les besoins de nouveaux outils de diagnostic, de nouveaux vaccins et de nouveaux traitements sont de plus en plus criants -on estime par exemple à 3 millions le nombre de personnes souffrant de la tuberculose et qui ne seraient pas diagnostiquées- les investissements sont en baisse pour la première fois depuis huit ans. Ainsi les 627,4 millions de dollars investis en 2012 ne représentent que 31% des besoins mondiaux.      
Fogué Foguito, président de l'association camerounaise Positive Génération, a mis en évidence les conséquences concrètes de ces baisses de financement et les difficultés que rencontrent les patients atteints de tuberculose : les traitements existants ont beaucoup d'effets secondaires qui parfois dissuadent les patients de le continuer, ce qui peut occasionner une résistance et aggraver la maladie. De plus, ces médicaments sont souvent chers et peu accessibles financièrement pour les populations les plus vulnérables qui sont souvent les plus à risque de contracter le virus. Seule une volonté politique forte peut permettre un meilleur investissement dans la recherche contre la tuberculose et une meilleure accessibilité des soins et des services de santé.
Si les ressources financières manquent, nous avons pourtant à notre disposition les compétences et les expertises nécessaires à la production de nouveaux produits. La France peut se vanter d'avoir été moteur dans la recherche médicale. Le BCG, le seul vaccin qui permet de prévenir efficacement la transmission du virus chez les enfants, a été découvert par l'Institut Pasteur de Lille. Malheureusement aujourd'hui elle a perdu de son influence sur la scène scientifique internationale. Elle contribue à hauteur de 6,2 millions de dollars par an à la recherche contre la tuberculose, c'est-à-dire moins que la Grande-Bretagne (31,1 millions de dollars) et moins que l'Inde (8,7 millions de dollars).
Nathalie Mielcarek, chercheure à l'INSERM, responsable des relations internationales à l'Institut Pasteur de Lille et représentante d'AERAS, nous a ainsi certifié que 75% de la recherche pour de nouveaux vaccins est européenne alors que 75% des financements proviennent des Etats-Unis. La France peut changer cet état de fait en influençant le budget de l'Union Européenne et par le biais de sa participation au Partenariat Europe- Pays en développement pour les essais cliniques (EDCTP).
Philippe Meunier, l'ambassadeur en charge de la lutte contre le VIH/Sida et les maladies transmissibles au Quai d'Orsay, a réagi sur ce point en ré-affirmant la volonté de la France d'être leader sur la scène internationale dans le domaine de la lutte contre les grandes pandémies. Les négociations sur le post-2015 sont une grande opportunité de mettre la lutte contre la tuberculose en exergue. La tuberculose affecte en effet tous les pays universellement et elle est en prise directe avec la pauvreté et l'exclusion. Mais sans attendre 2015, il faut agir dès maintenant par le biais notamment du Fonds Mondial qui a permis des progrès remarquables depuis 2002 : 11 millions de nouveaux cas détectés et soignés.
Francesca Belli, responsable du plaidoyer international à AIDES, a interpellé M. Meunier sur le fait que même si la France maintient le montant de sa contribution annuelle au Fonds Mondial, cela n'est pas suffisant pour atteindre les objectifs internationaux. En outre, ce recours aux financements innovants est un jeu de vases communicants et ne représente pas un effort budgétaire de la France.
En guise de conclusion, Bruno Rivalan, responsable de plaidoyer France et Europe à Avocats pour la santé dans le monde, a ajouté qu'il est indispensable d'avoir une approche holistique et transversale de la pandémie. Les différents acteurs doivent se concerter et travailler ensemble afin de produire de nouveaux produits, diagnostics, vaccins, médicaments qui soient accessibles et répondent efficacement aux besoins des populations concernées c'est-à-dire nous tous.