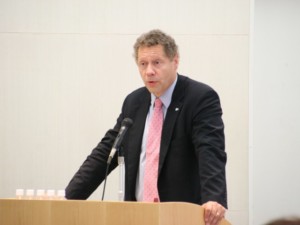 On 2nd December, the Chief Executive Officer of the GAVI Alliance, Dr Seth Berkley was in Brussels to attend the Development Committee (DEVE) meeting of the European Parliament and present the work of GAVI in the context of the discussion on fight against malaria and other poverty-related diseases. Dr Berkley gave an overview of the vaccines currently distributed by GAVI around the world and the positive effect of immunisation on the economies of developing countries. However, he underlined the fact that currently only 5% of children receive all the 11 vaccinations recommended by the World Health Organisation and that GAVI aims to bring this number as high as 47%. Dr Berkley stressed that the EU institutions currently contribute with only 1% of GAVI total funds while GAVI looks forward to increased engagement in the upcoming years.
As an active member of the EU Vaccine Advocacy Coalition, GHA took the opportunity to invite Dr Berkley to a meeting with European civil society organisations. During the meeting, the GAVI Alliance presented the results of the Mid-Term Review meeting, which took place at the end of October in Stockholm, and outlined the main challenges affecting GAVI, especially with regard to co-financing and health systems strengthening. Dr Seth also acknowledged the importance of the work of civil society organisations and discussed with the group how to improve cooperation between GAVI and CSOs.
Dr Berkley explained that GAVI was on track to achieving its indicator targets, notably immunising over 243 million additional children and averting more than 3.9 million future deaths in the period 2011-15. By the end of 2013, GAVI will have vaccinated 145 million additional children since January 2011 and averted 2 million future deaths, which has led to reducing child mortality in GAVI countries from 78 per 1,000 live births to 73 per 1,000 in two years.
However, the World Health Organisation estimates that 1.5 million children under the age of 5 still die each year from vaccine preventable diseases. GAVI's efforts therefore need to be increasingly sustained in the coming years to continue reducing child mortality. For these reasons and in view of the finalisation of the European Development Fund's programming, Global Health Advocates calls on the EU institutions as the second development aid donor in the world to deliver on their commitments in the field of global health by stepping up its support to the GAVI Alliance to a total of €50m/year. Such a contribution would demonstrate that child survival and immunisation are high on the EU political agenda and be an encouraging sign in view of the pre-replenishment meeting that GAVI will hold in Brussels in May 2014.
For an overview of main donors' contributions to GAVI, please check the ACTION scorecard here.