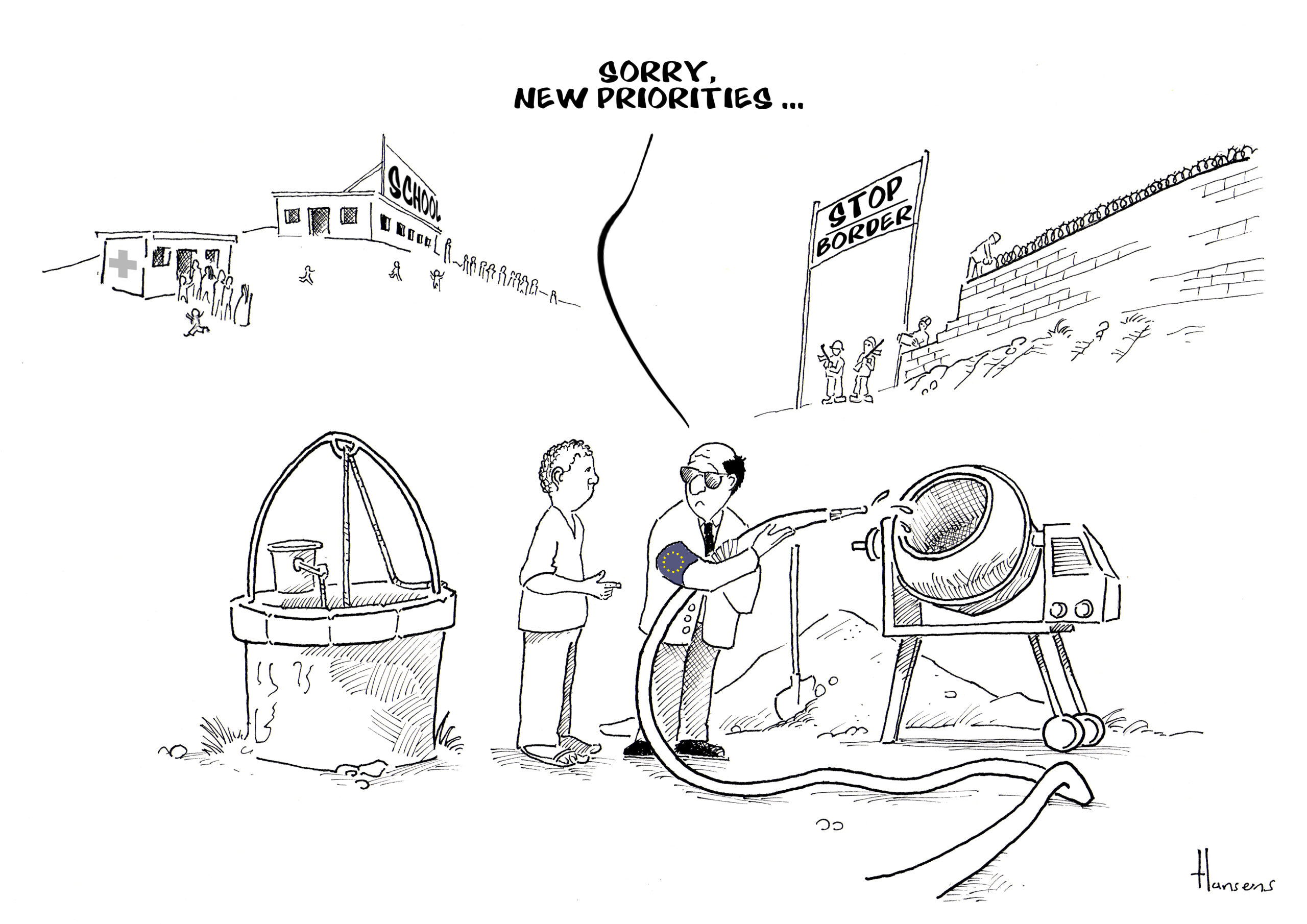 Brussels, 11 September – Ahead of Europe's development ministers meeting in Estonia on 11 September, Global Health Advocates research in Senegal and Niger shows that EU development aid is misused and diverted through the EU Emergency Trust Fund for Africa.
Development aid is meant to fund long-term programmes aimed at the eradication of poverty in line with partner countries' own development priorities. However, the EU Emergency Trust Fund for Africa – a rather new instrument launched hastily by the EU and backed with close to €3 billion in development funds – does exactly the opposite: it prioritises quick fixes driven by Europe's short-term domestic priorities, with little involvement of local governments let alone civil society actors.
Findings from the report published today reveal untransparent processes in-country, bypassing most good governance principles. No public calls for proposals, no consultation of local actors, no eligibility guidelines, prioritisation of short term projects and the development of retroactive strategies once most funds are disbursed.
Fanny Voitzwinkler, Head of the EU Office of Global Health Advocates, says: "Everyone we met in Niamey and Dakar agreed: the EU Trust Fund is first-and-foremost a political communication tool to show citizens the EU is responding fast to the so-called 'migration crisis'. Using development aid money as a bargaining chip to leverage African countries' cooperation on migration tarnishes the image of the EU as a global development actor."
Beyond the questionable use of development funds to address what is considered a political emergency in Europe, the EU is literally outsourcing the control of migration to countries such as Libya and Niger, to ensure migrants are no longer able to leave the northern shores of the African continent. Most concerning is that some countries have de facto boosted their domestic security spending over basic social services like health and education.
The NGO also warns against possible spill over-effects of the EU-driven effort to reduce migratory pressure to Europe. Repressive measures to curb migration are depriving communities of economic opportunities in the Agadez region of Niger without providing viable alternatives in already unstable environments. The EU's eagerness to rapidly stem migration flows has taken precedence over seeking sustainable solutions for the local population.
Global Health Advocates is urging the EU to delink its political dialogue on migration from its development agenda, acknowledging that migration is a positive driver of development. In the spirit of European's core founding values of tolerance, solidarity and respect for human dignity, the EU should actively support and promote a more nuanced narrative on migration and mobility, anchored in facts and reality.
Ms. Voitzwinkler concludes: "If the EU Trust Fund is not realigned to reflect a genuine partnership between the EU and African countries, promoting policies that can foster a positive development impact of mobility, the EU should stop replenishing the Fund."
****
Notes to the editors:
Media contact: Gian Marco Grindatto gmgrindatto@ghadvocates.org (+32 498 116879)
About the report:
The report "Misplaced Trust: diverting EU aid to stop migration. The EU Emergency Trust Fund for Africa" is the outcome of interviews with more than 40 stakeholders, conducted by Global Health Advocates in spring 2017 in Brussels, Niger and Senegal – both considered as priority countries under the New Partnership Framework on Migration. It looks into the implementation of the Trust Fund on the ground and the potential implications of this instrument on development practices and aid effectiveness principles.
List of partners interviewed can be found in the Annex of the report and includes: EU institutions, NGOs, civil society organisations, UN agencies, local authorities in Senegal and Niger, development agencies of EU countries.
Key messages from the report:
The EU Trust Fund is based on an inherent contradiction: presented by the European Commission both as a development and emergency instrument, it aims to deliver results in the short-term, mostly drawing on development funds, which are legally bound to support long-term poverty eradication programmes.
Although the largest part of resources allocated to the Trust Fund consist of Official Development Assistance (ODA), the Fund does not fully respect aid effectiveness principles: programmes implemented are not always aligned with national development priorities of partner countries. This is putting into question the effectiveness and positive impact of programmes.
The Trust Fund is negatively impacting the quality of the EU-Africa partnership. EU leaders are using a carrot and stick approach with African partners, using development aid to trigger their cooperation on migration management. The EU-Africa partnership should be a partnership of equals: this report has shown this is not the case with the Trust Fund.
About Global Health Advocate: Global Health Advocates is a global health advocacy organisation dedicated to fighting against diseases stemming from poverty and inequality. GHA's mission is to advocate for policy-change at the highest political level and to mobilize resources to tackle major health threats, build sustainable health systems and enhance health equity. It has offices in Paris and Brussels where it carries out health advocacy towards the French government and the European Union.
***
MEP Elly Schlein, member of the Development Committee in the European Parliament, reacted to the report: "The current approach of shifting development aid resources to stop irregular migration flows to Europe, with little to no oversight from the European Parliament, is very worrying. Aid will increasingly go to countries and regions that produce and experience migration towards Europe at the expense of everyone else. According to the treaties development money should be aimed at eradicating poverty. Building walls in Africa do not reduce poverty and inequalities, it increases them."