On 10 and 11 Oc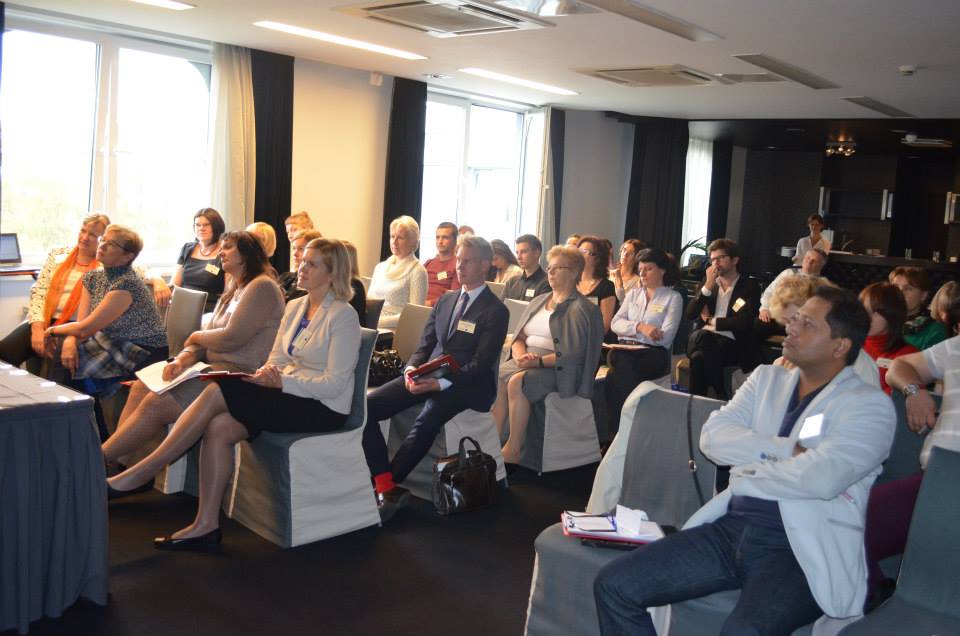 tober 2013, Andrea Corazza, European Advocacy Officer of Global Health Advocates and member of the TB Europe Coalition, participated in the international network meeting and study tour on "intensified TB case finding" organised in Riga, Latvia, by TUBIDU (Empowering the Public Health System and Civil Society to Fight the Tuberculosis Epidemic among Vulnerable Groups). TUBIDU is a project co-funded by the Health Programme 2007-2013 of the European Commission that aims to fight the tuberculosis epidemic among vulnerable groups in selected countries in the European Union and Eastern neighbourhood[1].
The event was an opportunity to meet with TB stakeholders from all over the EU and exchange experiences and best practices on tuberculosis and intensified case finding in the respective countries. Intensified case finding is an activity, recommended by the World Health Organisation, intended to detect possible TB cases as early as possible among members of high risk groups, such as injecting drug users, prisoners, sex workers, the homeless, the Roma community and people living with HIV. It does not mean making a TB diagnosis, but it is the first step towards that.
TB incidence varies from country to country but in every country vulnerable groups are the ones bearing the greatest TB burden. Indeed, national health authorities still face challenges in accessing those groups. In Romania, for instance, the lack of early diagnosis and instruments to ensure compliance with the treatment, makes it very difficult for members of these groups to access and complete treatment, despite TB services being free of charge. To address similar problems in Bulgaria, NGOs, such as "Dose of Love" (also a member of the TBEC), have established partnerships with national TB structures and invited TB-trained nurses to participate in outreach activities.
Contrary to what some people continue to believe, TB is a public health threat that also affects higher income countries. According to Alistair Story of Find & Treat Service in the United Kingdom, TB incidence in London remains very much linked to income distribution, with some areas of the capital reaching more than 180 TB cases per 100.000 people, thus making London the city with the highest TB rates in Western Europe. By using a mobile digital x-ray unit, Find & Treat Service raises awareness among frontline professionals, such as social workers and nurses, and screens almost ten thousand high risk persons every year.
A major challenge that emerged from the meeting links to the financial sustainability of TB projects reaching to vulnerable groups, currently mostly financed by international donors. Their sustainability only depends on national governments' commitments to step in and continue activities. In some cases, like in the UK, national resources are available but grants are provided only for short periods, thus limiting the capacity to plan activities in advance.
Participants were also invited to study visits in the city of Riga. The NGO DIA+LOGS, which supports people living with HIV/AIDS in Latvia, and the Social Centre "Gaizins", which offers social support for homeless people, are both carrying out much needed intensified case finding activities with vulnerable populations. These organisations raise awareness on TB and refer people with TB symptoms to specialist structures for proper diagnosis. However, the lack of incentives to access TB care, such as food packages and free transportation to health centres, continues to make access to TB services a challenge for members of these groups. The TUBIDU delegation also visited Riga's centre of Psychiatry and Addiction disorders, where methadone substitution therapy is provided. Clients of this structure are informed about and tested for TB but they still do not access TB treatment in the same structures where they are provided with methadone substitution therapy.
Overall, the meeting has not only highlighted the European dimension of the TB problem among vulnerable groups, but has also confirmed the importance of the work of civil society organisations in reaching out to high risk populations and the need for enhanced cooperation with the national TB programme.
---
[1] TUBIDU brings together 12 partners from 11 countries (Estonia, Latvia, Lithuania, Finland, Romania, Bulgaria, Ukraine, Russia, Georgia, Albania and Bosnia and Herzegovina).